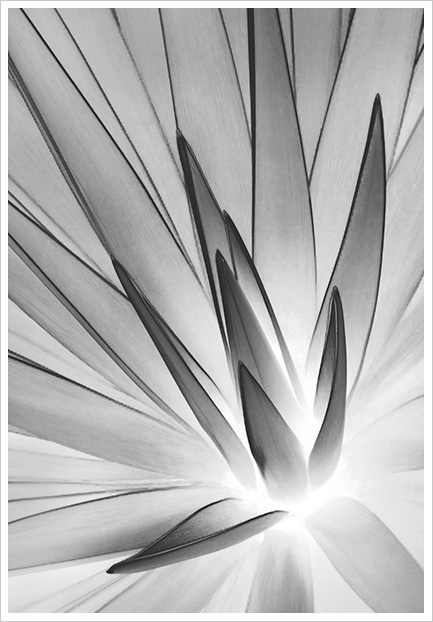 From behind the shutter
Last January, my Friend Terry and I went on a local photo tour. Terry Cluley was visiting from Toronto and we wanted to experience another photo moment again. We decided to go to Stanford, and I remembered that Laurie and some other folks at the Palo Alto camera club had suggested the Stanford Arizona Garden. The cactus garden was designed more than 100 years ago, it's a historical garden in the process of renovation and preservation. It is located on the south side of the mausoleum off of Quarry Road between Campus Drive and Arboretum Road.
The weather was not on the sunny side, but we were lucky and didn't get showers. That overcast sky was actually favorable to capturing the design elements that cactus are. Textures, patterns, contrasting shapes, all were showing nicely.
Here is one shot I took that was used to create that image: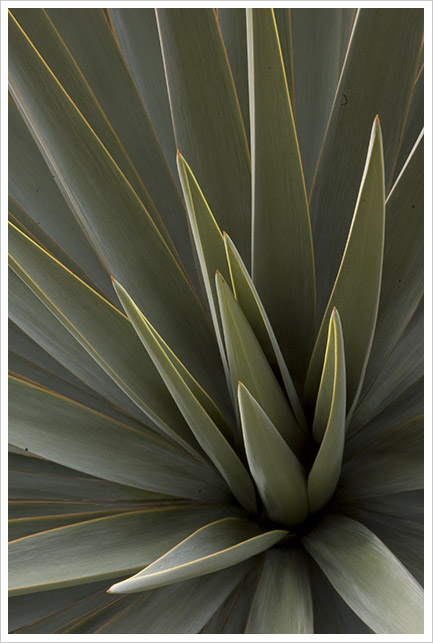 Original: Nikon D50 • Nikkor 18.0-70.0mm
62mm • 1/8s • f/22.0 • ISO 200
1.31.2008 11:20AM
The shot was taken from a pretty close distance in order to exaggerate the perspective and have a more dramatic view of the foliage. To have the maximum depth of field, I closed that lens to its maximum. I also wanted to have a sharp grain and set the IO to 200 (the minimum on the D50). Of course, since the light was low, I had to set the speed to 1/8s, which is good because cactus are not known as moving fast. So, I simply used a tripod.
I played a bit in PhotoShop to find the best way to present this image. Choosing to make it monochrome allows focussing on the design and the texture. especially that there were not a lot of color details.
Here is the image in monochrome after pushing a bit the contrast, and removing some visual noise (spots, dust,…)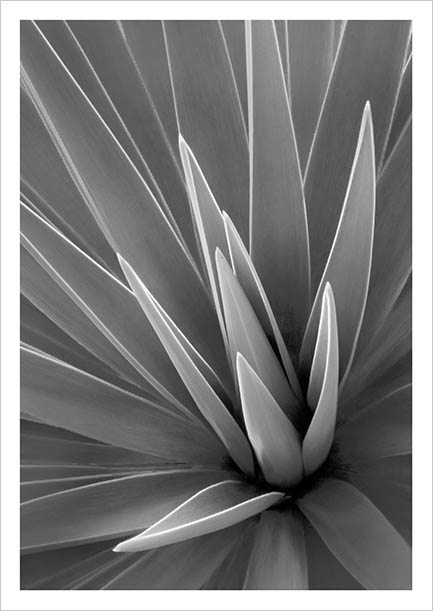 I then played with the curve and found an interesting setup.
To reverse the image (where black becomes white and white becomes black), use the curve editor in PhotoShop by reversing the curve, like this: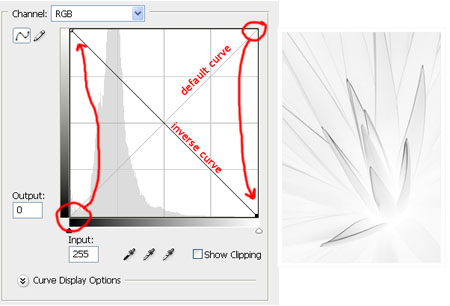 And here is what is happening if you use a "U" shape curve: the black turns white and the white remains white…
This is the -shape curve I used on the final image.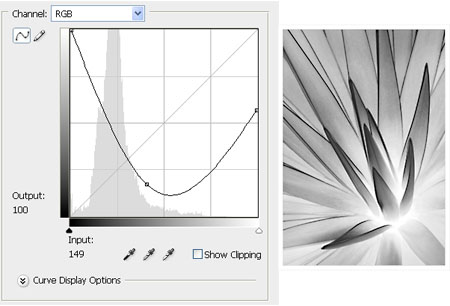 The center of the cactus, the place where the leaves connect was a dark area in the original picture. It's now a source of light and the rest of the image doesn't have that sense of being reverse… because it's not totally reversed!
Maybe the original image has more impact, just in monochrome, not using the U-shape effect…