From behind the shutter
This photo was taken at the beach in San Francisco. The kids were playing with the waves and the stream of water recessing on the sand. The late afternoon was bringing a color-rich light and even if I was facing it most of the time, there were lots of opportunities to make great pictures. I'm always feeling that the opportunities are greater than what I get, but here it is and learning is an ongoing process.
The orignal shot looks like this: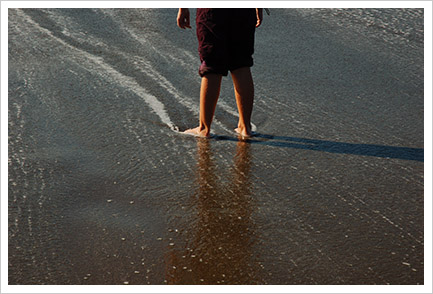 Original: Nikon D50 • Nikkor 70-210mm
700mm • 1/250s (ev -0.67) • f/11.0
8.12.2007 4:25PM
I wanted to try a more dramatic composition and decided to crop in a horizontal format, keeping the feet in the right tier.
I like the simplicity of the result, the connection between the kid feet and the space around it. I also like the visual construction created by the intersection of the vertical line of the legs and the diagonal stream of water. I also like the shadow-like, negative space created inside the foam, reminding the shape of the legs.