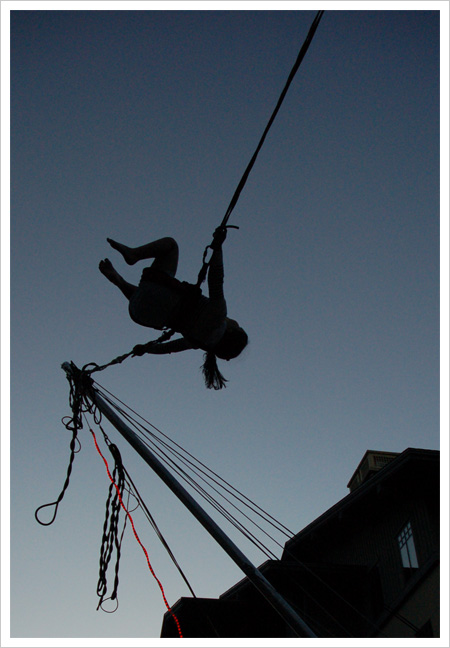 Behind the shutter
This image was taken in August 2006 in Squaw Valley, near Lake Tahoe in California, using a large angle (18mm on the lens, 24mm when taking the 1.5x crop ratio introduced by the smaller than 24x36mm digital sensor). At that time of the year, there are many outdoor activities at night at the village. Day hikers and bikers can enjoy good food, music, and entertainment. That day our daughters spent some times on the jumpers. It gave me some good photo opportunities!
This picture was not edited beyond cropping. No other editing. I like the silhouette on dusk-sky. The lines create a balanced composition, underlining the core subject of the photo: the high tension created by the kid in action, floating up-side-down in the air, challenging the force of the gravity. The silhouette of the background apartments provide a nice context and a scale to the scene. I was lucky to get a reflection on one of the windows. It helps reduce the distraction provided by the large building. The red string light also adds to the composition a touch of color.
I tried to improve the image by not making the main subject so close to the center of the composition. But I looked at the overall construction and that's the best I could come-up with.
Here is the original image: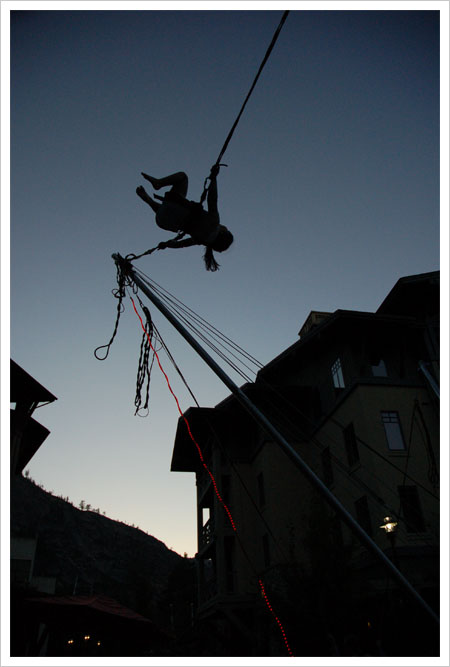 Original: Nikon D50 • Nikkor 18-70mm
18mm • 1/2000s (ev -1.00) • f/3.5
8.14.2006 7:44PM