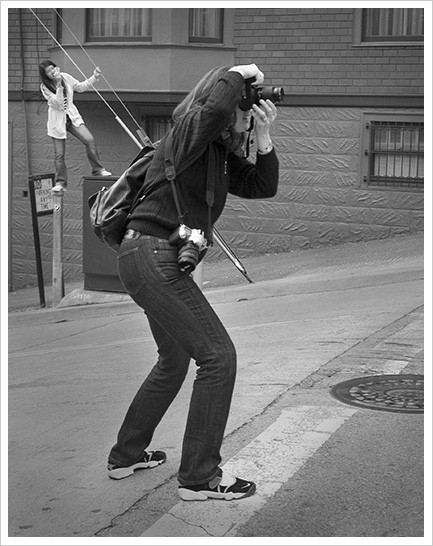 From behind the shutter
Last September 07 I gave a quick tour of San Francisco to my friends who were visiting from Minsk, Belarus. We stopped at the famous Lombard Street. Many tourists take pictures of that street all year-round. Professional photographers are also interested in capturing this strange place from new and different angles.
The weather was rainy, with low light. I was amused by the intensity and effort that visitors were put into capturing that street on camera. Here is the original shot I took from some of those photographers: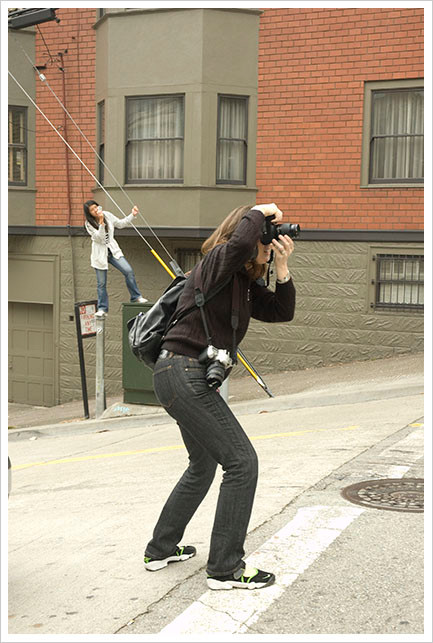 Original: Nikon D50 • Nikkor 18.0-70.0mm
35mm • 1/40s • f/5.6 • ISO 800
1.31.2008 11:20AM
The only edits I made in PhotoShop are:
• Crop to focus on the action
• Adding a vignetting effect around the image
• Dodged some dark areas on the sweatshirt
I submitted this image to the Street Photography competition organized by the Center of Fine Art Photography in Fort Collins, Colorado. And this image was one of the 65 selected out of 2,300 submitted from around the world by 575 photographers. This is a premiere for me as it's the first time I participate in a large competition.
The photo will be exhibited there from March 28th, 2008 to April 26th, 2008. There are several aspects to be taken care of when exhibiting, so for those who are interested, here are the steps you need to take:
– Make a "museum grade" printout. I recommend a local print service called The PhotoStop (for those in the Bay Area) located in Sunnyvale, CA. The crew and the owner are very knowledgeable and love photography. The printed me two 11×14 versions, one using an inkJet printer (using archival Epson K3 ink), and one using a laser-based traditional argentic photo development process. I decided to use the inkjet printout which has sharper details. The cost of the printout is about $25.00 for the inkjet. Tell that you are from the photo club and you will get 10% off.
– Frame the image. Well, Aaron Brothers are taking care of it for me. I decided not to add a glass on top to save cost and also because I don't think the image needs to be protected. The Mat needs to be acid-free (archival grade) and ultra white. The frame needs to be solid wood or metal black. There are dimensions guidelines to follow. The cost of the framing is about $130.00
– Write an artist statement… that is what I have tried to avoid… but it needs to be done. So, I spent about 20 minutes on it, and here it is. It's supposed to be like a game…
«Photography helps me experience the distinction between vision and creation. I'm learning that I only see what my mind wants me to see. Every day I practice my ability to shape and create new intentions. And the images I take reflect invariably who I am being. Photography has now become an integral part of my personal growth process, a real-time digital mirror of my moods and thoughts, a form of visual meditation.
There is no objectivity in reporting the world, but only subjective interpretations fueled by our personal stories and past experiences. The photographer tells a story, a by-product of her mental journey. The photograph depicts the photographer.
I want to see the world as an all-you-can-eat buffet of strange and funny circumstances. And quirky humor becomes available all around me, everywhere I want to see it. The law of attraction says that we live in a world of intention, I believe it. I believe that my creation is nothing less or more than the manifestation of a strong desire.
I'm who my pictures say I am.»