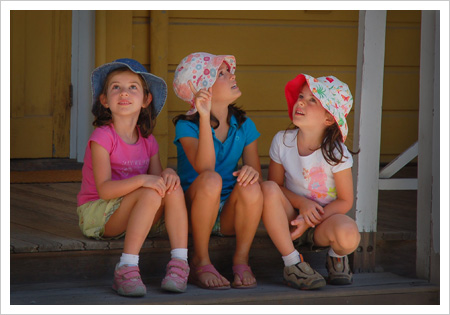 From behind the shutter
Earlier in July, I spent a weekend camping with some friends up in the Napa Valley, the wine country located NE of San Francisco. Since the wineries are not the best places to spend time with kids, we decided to visit places like the Old Faithfull Geiser, the Petrified Forest, and the Mission San francisco de Solano. The temperature was a bit high in Sonoma, forcing us to often halt and cool down in shaded places.
That's where and when that picture was taken- excited by the camping trip, tired by the visits, and slown down by the sun. The light doesn't have harsh contrasts, the walls of the building in the back offers a nice background with enough personality while not distracting from the characters. I was initially not too sure about the centered composition, but I now believe that it helps focus on the elements that are not symmetrical. At first we see three similar kids (similar age, clothing, ethnic and attitude), but then the eye quickly focuses on each unique elements:
– the direction of their eyes
– the posture of their hands
– their facial expressions
Here is the original shot: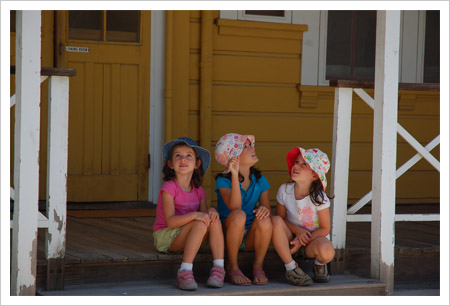 Original: Nikon D50 • Nikkor 18-70mm
70mm • 1/400s (ev -1.00) • f/5.0
7.8.2006 1:55PM
The only PhotoShop edits are:
– crop around the characters
– darken from the outside in to help focus on the faces and hands (darkened the feet and background)
– slightly brightened up the faces
– remove a few distracting paint chips from the background (using th clone tool)
Update: I submitted this image to the PACC competition on 8.1.07 (in the pictorial category) and the judge Kay Mackenzie gave it the 3rd place.