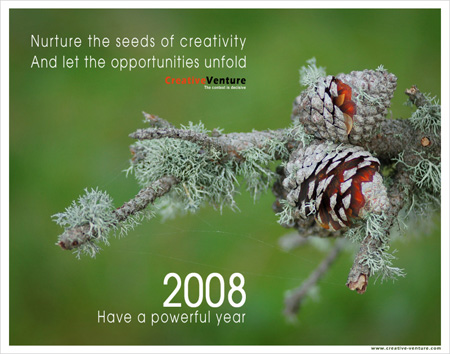 From behind the shutter
I wanted to design a card with a message more than with people for my friends and business contacts. I had in mind some high level themes such as "Creation" or "Contribution". I also wanted to write some of those messages on the photo, so when I looked into my photo archive of the past year, I was looking for both the content of the image (that would illustrate the theme of the message), and the visual composition (that would leave some uncluttered background to write the text on).
I was also looking for a photo that would have a simple design so that I could use simple plain and clean fonts. And having a dark background was a plus, because I like white text…
I found this photo: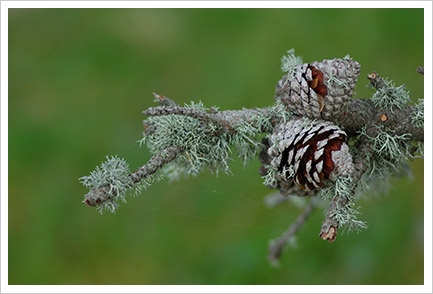 Original: Nikon D50 • Nikkor 70-210mm
110mm • 1/1000s (ev -0.33) • f/3.2
3.31.2007 2:18PM
The photo was taken at Point Lobos, in California during a photo field trip with my friend Terry Cluley. The opening pine cones where the perfect match for a theme around creation and seeds. I pushed the color saturation within the pine opening to make drive the attention to the seed and cropped it a bit.
I also darkened the outside peripheral to help focus on the center where the text is going and where the pine cones are.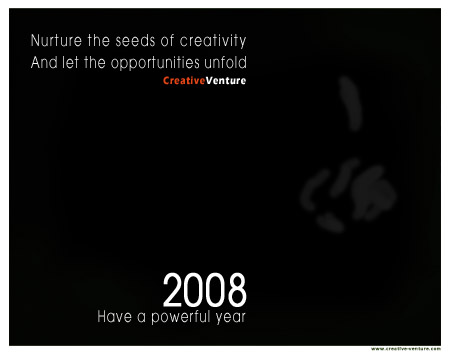 I used ITC Avant Garde Gothic font. I like its simplicity. I set the horizontal scale to 75% and the tracking to 120 for the message. The Creative Venture logo uses Eras Bold ITC scaled horizontally at 80% with a tracking of 75. the color of the word "Creative" is orange by design. In order to blend it better within the composition, I changed its color to match the color of the pine cone openings.
Have a powerful year 2008!