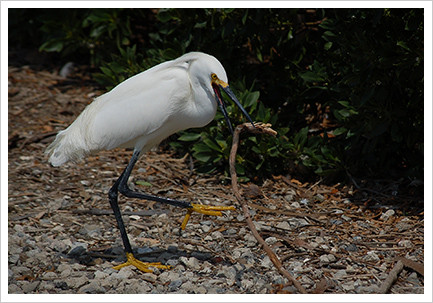 From behind the shutter
Here is a "Nature" photography image. Nature photography is a special category of photography and has its own set of criteria. Depending on the organization, there might be some variations or interpretations, but here is the main guideline to qualify and make a good Nature Photography:
The subject documents an aspect of the natural world (animals and their habitats, geology, meteorology, etc).
The "hand of man" should not be evident (this is a subjective notion… and sometimes is open to discussion).
The "story". The story makes the image more interesting, where something is happening. A creature is in action, or a plant is in a unique condition or state, or the weather manifests some interesting "expressions".
The subject should be as much as possible in focus and "whole".
Edits are not permitted beyond what you can do in the traditional darkroom (dodging, nudging, cropping…).
The title includes the name of the subject that is presented, its technical/Latin name is a plus. It can also include the action or specific story.
This image was taken at the Palo Alto Baylands in May 2007. This is a well-known place where many bird species are protected. In the spring season, the birds are very active nesting. Snowy Egrets fly back and forth looking for building material. You can easily find them finding and carrying dead branches to the Palm Trees where they nest. The most common Snowy Egrets photo opportunities include egrets in the trees building nests, egrets in the trees protecting their nest, flying egrets back and forth with branches in their beck, egrets getting the branches.

This image shows an egret trying to break a dead branch using its beak and foot. For several minutes that egret was trying to carry the branch as is, but couldn't take off because of the weight.
Snowy Egrets (and other white birds like the Pelicans) are tricky to shot because I can never rely on the auto exposure feature of my camera. Maybe more sophisticated cameras can handle this type of exposure better. Most of the time the bird is overexposed and the details of the feather are missing. So, I manually pick the settings. Note that birds have the tendency to move a lot and fast (it becomes even more evident when you start taking them in the picture ;-)). So, when choosing the settings, I tend to open the aperture to get more speed, like 1/1000th of a second. Opening the aperture too much will get the risk to lose depth of field which will not only risk to have some of the animals off focus, but also the background, not representing its habitat accurately.
A nice trick when taking images of birds is to make the eye the prominent focus of the image.
The usual rules of a pictorial image also apply to nature photography: light, composition, color palette, depth, lines, patterns, textures and shapes, and so on.
Here is the original shot: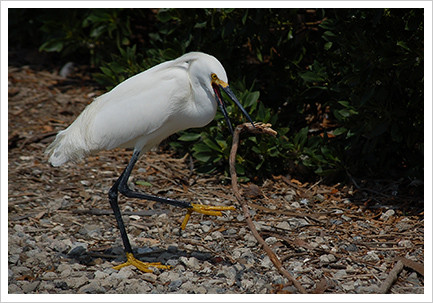 Original: Nikon D50 • Nikkor 80-200mm
200mm • 1/2500s • f/10.0
5.2.2007 12:08PM