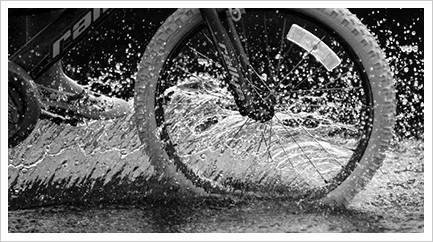 From behind the shutter
This shot is one of the now familiar series taken while riding a bike in puddles after the rain. This image is pretty much straight from the camera, here is the source image: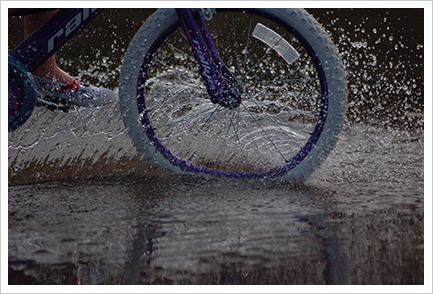 Original: Nikon D50 • Nikkor 80-200mm
200mm • 1/4000s • f/3.2
2.20.2008 5:56PM
To increase the stop motion effect with the "wall" of water:
I cropped the image to remove most of the still water
Made it a monochrome (in using Google Picasa)
Increased the contrast (by +62 in Photoshop) and the brightness (by +15 in Photoshop)
Brightened the area marked in red below using the Level feature in Photoshop and pushed the medium point to 1.43. This brings up some of the darker details especially on the foot and the inside of the tire:

Medium levels = 1.43 (the red represents the mask used to apply that effect)
The final image feels out of time and space. The dark background allows focussing on the interaction between the foot, the whee, and the water. Very liquid water frozen in a snapshot.
I entered that image into the Palo Alto Camera Club competition on March 12th, 2008 and the judge awarded it the 3rd place.