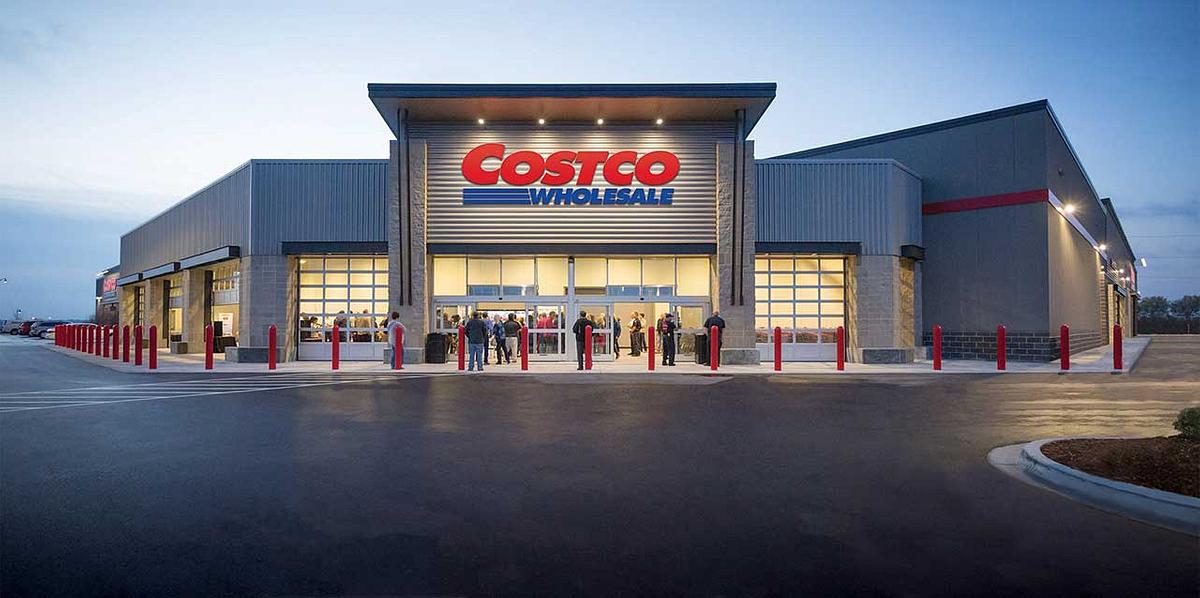 It's fast, convenient, very affordable, and good quality.
DISCLAIMER: THIS SITE IS NOT AFFILIATED WITH COSTCO, NOR DO I RECEIVE ANY BENEFITS FROM COSTCO. THIS SITE IS MEANT TO SHARE MY (POSITIVE) PERSONAL EXPERIENCE WITH A PRINTING VENDOR. THE INFORMATION BELOW IS PROVIDED AS IS.
For more than two years I have been printing my 11×14 and 12×18 color and monochrome prints at a local Costco Photo Center. I successfully used those prints in different competitions.
The price is unbeatable (assuming you have a membership): 12×18 for $2.99.
The convenience is unbeatable (upload to Costco.com, pick up in the store).
The quality is very good, assuming you follow some of the guidelines below.
Many of you have asked me for more details about my experience with using the Costco Photo Center. This post describes my experience and how I personally use Costco for Fine Art printing.
Click here to go to the FAQ page

Note that you need to have a Costco membership in order to use the Costco Photo Center. If you don't have one, you can buy a yearly membership online for as low as $50, a bargain if you print often.
Table of content
Some background information and considerations
Quality and Paper
Printers
Color calibration and profiles
Resizing when printing
Monochrome prints
File resolution – "do I have enough pixels"?"
About mail orders
Step by step instructions
a) Open File
b) Crop
c) Setup the actual dimension
d )Setting up the canvas dimension
e) Save a JPEG
f) Upload the file to Costco.com
g) Print options
h) Re-Print


Some background information and considerations
Quality and paper
Quality is the question that comes the most often when I mention printing at Costco, especially when it comes to competition or gallery presentation. It is true that Costco may not be up to the quality that a custom print can provide you, and one of the main limitations using Costco is the limited choice of paper.
Printers
Costco uses different industrial photo printers in its Photo Centers. You can find a list of printers by photo centers through Dry Creek Photo a company who provides color calibration technologies for Costco. The store I use in Mountain View, CA uses Noritsu 3111 and Noritsu 3101printers, which are good laser-to-photo-paper printers and the Epson 7880, a large-format inkjet printer.
Noritsu Printers
Note that when you submit a print online with "do not auto correct my prints" option turned on, the Mountain View Photo Center automatically prints on the Noritsu 3111 for prints 12×18 and under. Call your local Photo Center to know which printer your photos will end up when using the "do not auto correct my prints" option, and ask if they are using the Dry Creek profile.
The Noritsu printers at the Mountain View, CA store uses Fuji Crystal Archive Type II in Lustre or Glossy finish options. You can find the technical details of the paper here.  But, I always find the prints to be very sharp with very good rendering of the details. Note that despite the name "Archive" and some long-lasting colors, this photo paper doesn't qualify as "archival".
Prints made on the Noritsu are borderless.
The Mountain View, CA store runs a color calibration test every Monday and a Monochrome calibration every day. They print a test card and scan it using the built-in color calibration scanner.
Epson 7880 printers
The Epson Stylus Pro 7880 is used for print size of 16×20 and 20×30 submitted online. It's an excellent professional printer.
There is only one paper choice available (at least at the Costco Mountain View, CA) as of May 2010 is the Fujifilm Photo Satin 270 Paper. Click here to read the technical specification of the Fujifilm Photo Satin 270. This paper is not an archival paper.
The Epson 7880 is using the Dry Creek profile. If you want, you can get the profile from Drycreek and install on your machine. Once set up it is supposed to help you see on your monitor something closer to what it will look like on the printer. Do not however embed the profile when saving the file. Also, note that the driver for the Epson 7880 is optimized for 300ppi.
Prints on the Epson 7880 have a 1/8 border all around the image.

The Costco Store in Mountain View, CA uses the 8 colors (including 3 blacks) Epson UltraChrome K3 ink pack. It prints excellent back and white images without the magenta or green cast you might have on the Noritsu.

Color calibration and profiles
Yes, you can download the profile from Dry Creek Photo. But of course, you should also calibrate your monitor. You don't have to embed the profile in your file, Costco embeds the Dry Creek profile in the Noritsu printers and updates it every 6 months. You just need to use the profile on your system for a better "preview" of the printout.
Note that this is not a requirement in order to print at Costco, and that I never calibrated my monitor and that I'm not using the Dry Creek profile.
Resizing when printing
There are lots of people who experienced a "resized" image ranging from 99% to 101% or even 102%.
Those printers have resizing settings and each Photo Center can have different settings. The printer used by the Mountain View, CA Photo Center when you use the "do not autocorrect" option is set to 100.0%. Check on the back of the print, the last number is the percentage at which it was printed. If you see 100.0 that means that it was printed at exactly 100%. Ask your Photo Center technician or manager to know if they are using the auto-size option or if it's set to 100.0%
Monochrome prints
I had a few issues when submitting black and white monochromes on the Noritsu printer (print size of 12 x18 and under). I had one time a light purple cast, another time a greenish cast and another a blue-ish cast. But I had also most of the time a solid monochrome. I usually prefer to use Lustre when printing monochromes. Expect the print to be more "cold" than a "real" monochrome output from an inkjet for example. But most of the time it will excel on the sharpness.
The monochrome prints on that Epson 7880 (size 16 x 20 and 20 x 30) are excellent. It's a 9 ink printer with 4 different "black" cartridges. If you are printing a Fine Art monochrome image, I suggest to print it on a 16 x 20 or 20 x30 canvas, with your image placed at the size you want. But in order to print on the Epson, you need to submit a canvas that is at least 16 x 20 and then you cut the extra space.
File resolution – "do I have enough pixels?"
The image resolution is a discussion all by itself. So, I'll only state the obvious here. There is no minimum number of pixels that your image needs to have in order to print it. But there are some basic suggestions (provided by Costco) in order to have an image that shows details when being looked from up close. If your poster is to be seen from a certain distance, then you don't need to respect those recommendations because it will not be noticeable. If your image needs to be seen from close and you don't have enough pixels, you may want to experiment with some oversampling techniques, which for some images can be an art to perform correctly.
Here are the guidelines provided by Costco (I often submitted files with a lower resolution though), they suggest the minimum number of pixels for the files that you submit based on the intended print dimensions:
Print size
Minimum resolution
between 115 and 180ppi
(recommended by Costco)
Recommended resolution:
300 or 320ppi for a Noritsu 3111
(recommended by DryCreekPhoto)
8 x 10
1150×920 pixels
2400×3000 pixels
8 x 12
1380×920 pixels
2400×3600 pixels
11 x 14
1610×1265 pixels
3300×4200 pixels
12 x 12
1380×1380 pixels
3600×3600 pixels
12 x 18
2070×1380 pixels
3600×5400 pixels
16 x 20
2300×1840 pixels
4800x6000pixels
20 x 30
3450×2300 pixels
6000×9000 pixels
If your image doesn't have "enough pixels", you can experiment with oversampling it, which consists in re-dimensioning the image to insert more pixels. Photoshop uses interpolation algorithms, but it will never replace the information in the image that was not there to start with.
Again, experimentation here is also your best solution. I have submitted files online that have less than 115ppi and the result was acceptable. It depends, of course, a lot on the image itself and in what distance the image will be seen.
For example, at the photo club, we currently use a video projector (1024 x 768 pixels) projected on a screen that's about 8x6feet. That ends up being a display resolution on the screen of less than 15ppi, and yet, we are still debating if we should move to an HD projector which will bring the resolution to about 25ppi. The fact that we are looking at the screen from 4 to 20 feet away makes it perfectly fine.
About Mail Orders
I just called their technical support and here is what they told me (the information was confirmed by a person):
– the "do not autocorrect" option is both available for mail order and in-store pickup
– there is no way to know which printer will be used when using mail order. They have a few printing hubs in the US, the West Coast facility is 100 acres. They have a central server that distributes the print queue to many different printers based on their availability, so, we cannot predict if it's going to be directed to a Noritsu for example. Using color profiles seems unpredictable.
– there is no predictability in term of auto-resizing options. Some machine may be set up to auto-resize and your photos might be printed at 99% to 100% of there intended dimension.
Step by step instructions
a) Open file
I highly suggest that before you go through the following steps to duplicate your file and work on a copy of that file. Some modifications will be made in the steps below and you don't want to lose anything until you know what you are doing ;-))
Open your (duplicated) image in Photoshop (any format like .jpg, raw, or .psd)
b) Crop (optional)
If your final image needs to fit a certain aspect ratio, like for example if your photo will go behind a pre-cut mat with a pre-set opening, then you need to make sure your image has the right aspect ratio.
I usually use a pre-cut mat and want to leave a white space around the photo within the opening of the mat. So, I measure with a ruler what my actual image dimension should be. In my case, and for the purpose of the explanation here, I use 15.125 x 9.875 (a fairly precise measurement that in your case could also be as simple as 10×9 or 11×14 or 12×16, etc.
I suggest the following method in Photoshop to crop your image while maintaining its original resolution:
1- select the Marquee Tool


2- in the tool option bar, select Style: "Fixed Ratio" and enter your expected width and height (don't worry about entering measurement units, it's not the point as we only care about the aspect ratio in this step)



3- then select the part of the image that you want to be your final print
4- and then go to the menu "Image" and select "Crop"
Now your image has the intended aspect ratio.
Note for those more adventurous, you can also use some width or height resizing to fit more information. You can "stretch" by a few % the image without having a major visual impact in most of the cases. Try to stay within 5%.
c) Setup the actual dimension
1- go to the menu "Image" and select "Image size…"
2- make sure "Resample Image" is unchecked
3- make sure the Width/Height/Resolution is "linked" (see #2 in the diagram below
4- enter the intended Width in inches of your final image (should be the same value you used just before when cropping to insure the aspect ratio. You should not need to enter the Height as it will be automatically calculated based on the existing aspect ratio.
5- click OK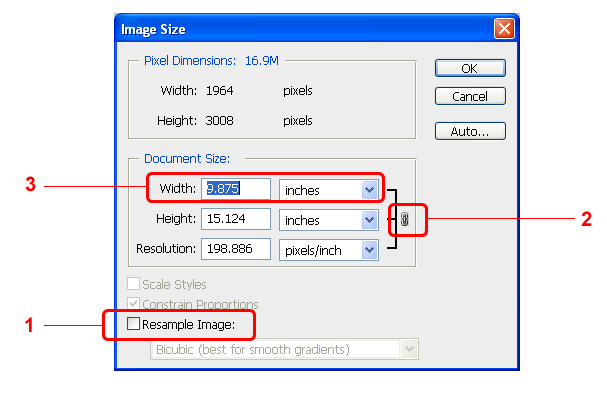 d) Setting up the canvas to match Costco print paper dimension
Now that your image is set with its intended dimensions, we need to place it on a canvas that matches the size of the paper that Costco offers. Costco doesn't offer custom print sizes, but only a few sets of pre-defined dimensions. You have to choose one big enough to contain your image.
Below are the paper dimensions offered by Costco (dimensions are in inch, the price listed here for information only, as of May 2010. For accurate information, please go to www.costco.com).
Price is for store pickup (orders can be placed online at costco.com)
4×6 (Noritsu) – $0.13ea
5×7 (Noritsu) – $0.39ea
8×8 (Noritsu) – $1.49ea
8×10 (Noritsu) – $1.49ea
8×12 (Noritsu) – $1.49ea
12×12 (Noritsu) – $2.99ea
11×14 (Noritsu) – $2.99ea
12×18 (Noritsu) – $2.99ea
16×20 (Epson 7880) – $5.99ea
20×30 (Epson 7880) – $8.99ea
In my example, I will use a 12×18 to fit my 15.125 x 9.875.
1- go to menu "Image" and select "Canvas Size…"
2- make sure the checkbox "Relative" is unchecked
3- then set the measurement unit to "inches" and enter the width and height of the Costco paper
4- you can also choose the color of the canvas that will be added (the technician at Costco told me that the choice of the color doesn't affect the color balance of the rest of the image). I usually use White, Black or a Gray. In my example, I will be using while because some of that canvas will be visible
5- click "OK"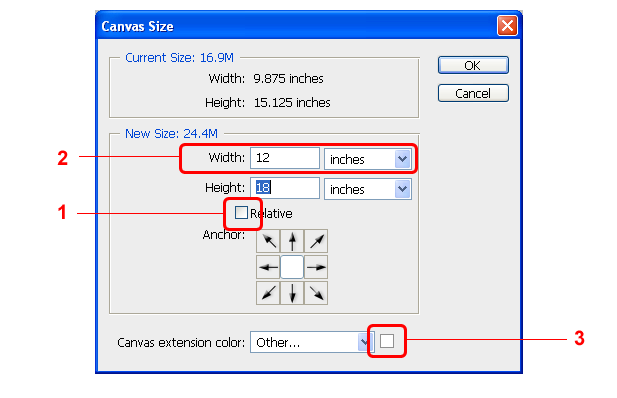 Now your image should show be positioned on a canvas whose dimensions match the Costco printing dimensions.
Note regarding the resolution of the image: The Noritsu used by Costco are optimized for 320dpi. But I never set the image resolution and always let the resolution "as is", and I never noticed any differences. Some of you may want to play with some oversampling techniques to indeed provide an optimal amount of pixel per inch. For example, a 12×18 inches will have 3840×5760 pixels to optimize a 320dpi.
e) Save a JPEG
Costco accepts JPEG, TIFF and BMP files. I personally always use JPEG.  So, we now need to save the image as a JPEG.
1- go to menu "File" and select "Save as..". (You can also select "Save for web", which may generate a better JPEG)
2- select the jpeg option, and save
3- in the option menu, select the highest quality (12), Baseline.
4- I found it convenient to add to the name of the jpeg the canvas dimension. So, in my example, I will name the file "MyImage 12×18.jpg"
f) Upload the file to Costco.com
Now, I will assume that you have Internet access and a Costco membership number with you. I also suggest that you use Internet Explorer if you have a Windows system, their upload feature is more powerful in Internet Explorer than on Firefox. See screenshots below.
There have been some discussions regarding the maximum file size allowed for upload on the Costco.com website.
I successfully uploaded a 6000 x 9000 pixel (20in x 30in at 300dpi) JPEG image of 13.5MB.
I will soon try to upload the same image (6000 x 9000) in TIFF of 153MB to see if it works.
Please report in the comment section below if you have some experience with very large files (50MB and more).
1- go to http://www.costcophotocenter.com
2- click on the link "Photo" located at the top of the page
3- log in (or create an account), create a new album, and go to the "upload" option
4- select the file you want to upload, make sure you select "Full Resolution" when you upload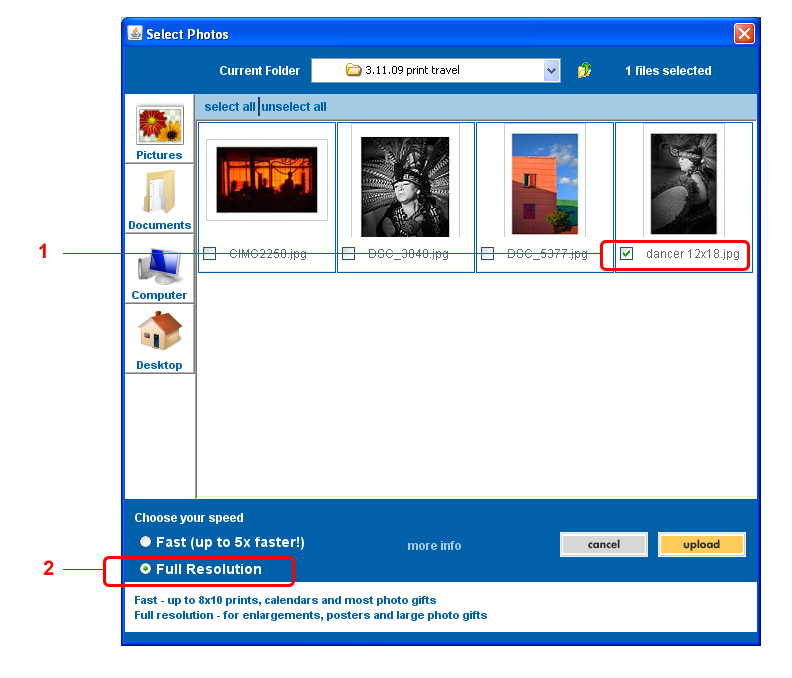 Above: "Full resolution" option in Firefox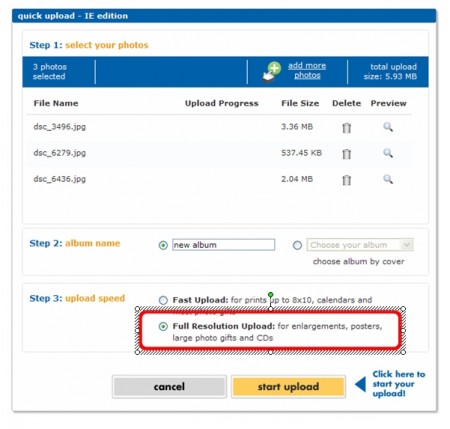 Above: "Full resolution" option in Internet Explorer
5- and click upload
6- once your file is uploaded, click on the link "Order Prints"
7- select the photo(s) you want to print and "Add to cart"
g) Print options
There are a few options that you want to select in the "Print options" page.
– Photo Finish: Lustre or Glossy. There is a magical answer for that choice, it depends on what your image represents. that being said, I found that for a monochrome image, the Lustre option works better for me.
Note that the Photo Finish option only applies to the entire order. So, if you want to have one 11×14 in Lustre and another in Glossy, you have to place 2 orders. A bit time consuming but doesn't cost more.
– Quantity: by default, your order has one 4×6 for each photo. You have to be careful and set the correct paper dimensions based on your file setup. So, in my example, I'll set the quantity of 12×18 to 1, and remove the 4×6. Note that if you select a paper of a different dimension and aspect ratio, it will still be printed, but you should expect your image to be cut on one or the other side.
– once the order looks good, click "Continue"
– Pickup option: in-store or by mail. I have always done the store pickup, so, I cannot comment on the mail option. I have always been using the store located on Rengstorff Avenue in Mountain View, CA and I have always been very happy with the output.
– Do not Auto correct option: one of the most important options that you need to set is the Auto Correct option. On the page "review & place order", click on "edit options". In the options popup, make sure you select the "Do not AutoCorrect my prints." option. AutoCorrection is an automatic process applied to the image to "make it look better". I assume that if you are reading this, you are either a photographer or that you are pleased with your image. This option makes a significant difference, and in most of the cases will affect your final output if it is not checked.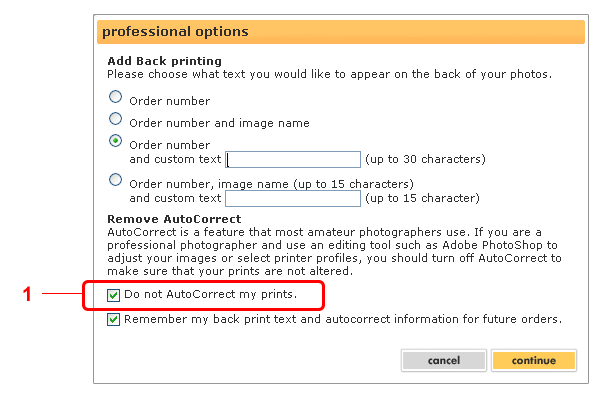 You are now ready to place your order. Costco will give you an estimated time and date, the images were always ready when they said it will be and I placed more than 50 orders over a period of 2 years.
h) Re-Print
If you are not happy with the printout, you can reject the print job and not pay for it. If you find that there is a technical issue with the print, you can ask to reprint it on the spot. The file is stored in the computer and they can re-submit it. It happened once that there was a thin scratch line all along with the print. They reprinted it right away for me.
Now, you may find that your print is too dark or too bright, or that the colors are not as expected. If that's the case, you can go back to Photoshop and correct your image to compensate for the exposure and other settings and re-submit for print. If this is a recurring issue, I suggest that you get more serious about your monitor calibration and the use of the Dry Creek Color Profile.
Happy printing!!