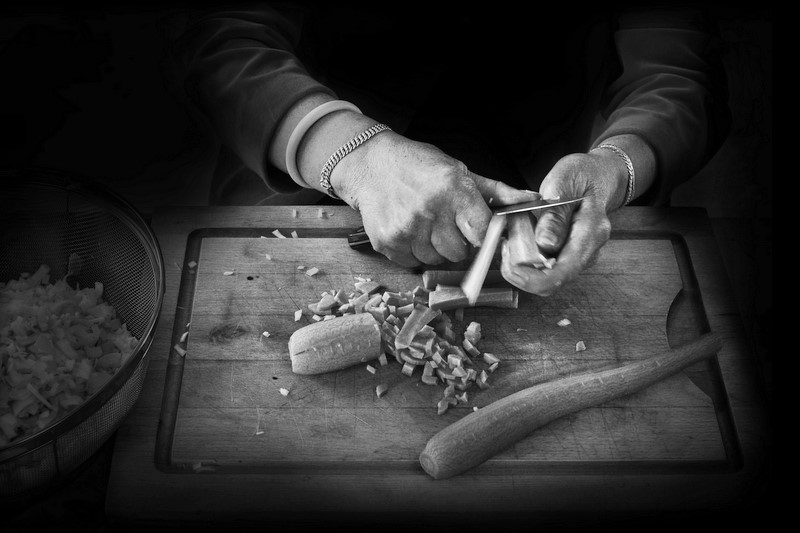 From behind the shutter
After several year using my Nikon D50, it was time to upgrade to a newer camera. I opted for a Nikon D90 which provides the following key improvements for me:
– higher resolution, which allows a bit more cropping options
– crisper, sharper images
– better colors
– compatibility with my previous Nikon lenses
To get familiar with my new toy, I took shots around the house. One of the very first shot (image number 0135) was the hands of my mother in law, Yolanda, who was visiting us for the Holyday. Here are some shots from that testing series: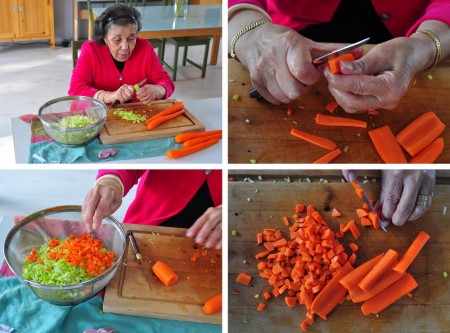 The colors are interesting and the subject simple in nature. I want to note that this is not a staged shot.
I recently reviewed those images in my collection, and found that particular one: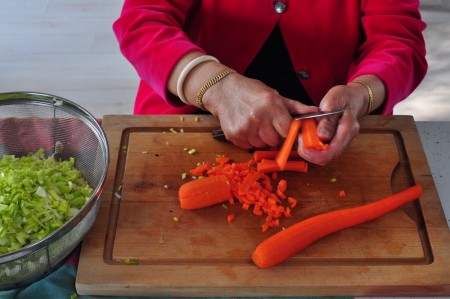 Original: Nikon D90 • Nikkor 35mm
35mm • 1/60s • f/7.1
12.5.2008 11:07AM
I'm not sure what caught my attention, but I had a strong feeling that there was something I could do to turn the test snapshot into a more creative interpretation, focusing even more on my main subject which are the hands in action.
1- Monochrome + contrast + brightness
The first choice I made is to use a monochrome version. I also increased both the contrast (+67) and the brightness (+64). I did so to reveal a series of visual details that all support the main message: natural, timeless, basic. It removes the otherwise overwhelming strength of the colors vibrant colors.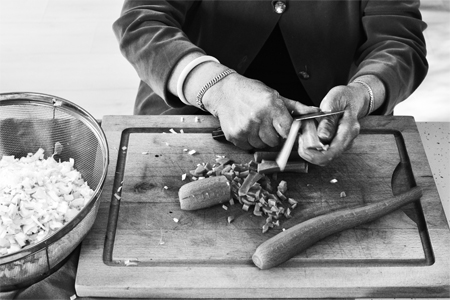 Monochrome + Contrast + Brightness
2- Darkening to focus on the hands
The previous step presents a lot of distraction to the eye and lacks of focus. For example, the bright background attracts the eye, the mesh colander on the left competes with the hands, the hands (the main subject) are not present enough.
I used a simple technique to change the visual order, I painted a dark overlay using a 6 to 20% soft brush.
Here is the overlay: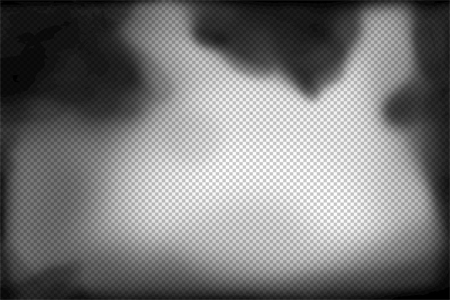 Darkening the un-necessary
And the resulting image: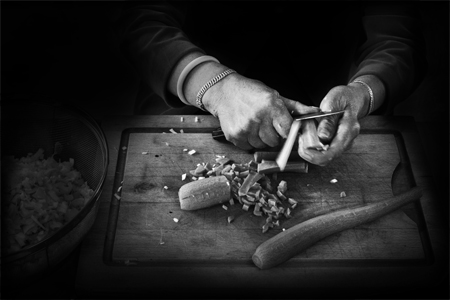 Focus on the core subject: the hands in action
3 – Detail touch ups
As I was satisfied with that direction, the only aspects bothering me were:
– the lack of skin details (addressed with sharpening the hands using a masked duplicated and sharpened layer)
– the the overexposed top of the hands (addressed using a curve adjustment layer with a mask to apply it on the top of the hand)
– the extra white pieces of carrots on the plank (addressed by zooming in and painting them in darker levels one by one…)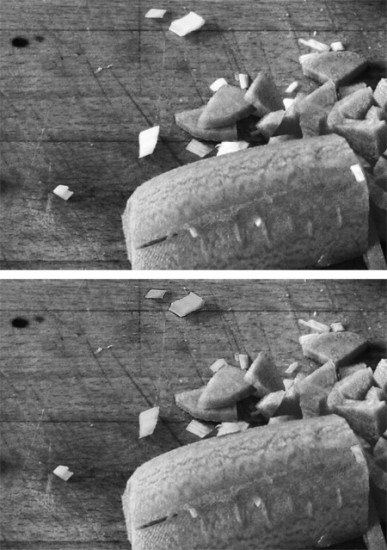 Darkening the bright spots
Here is the final image: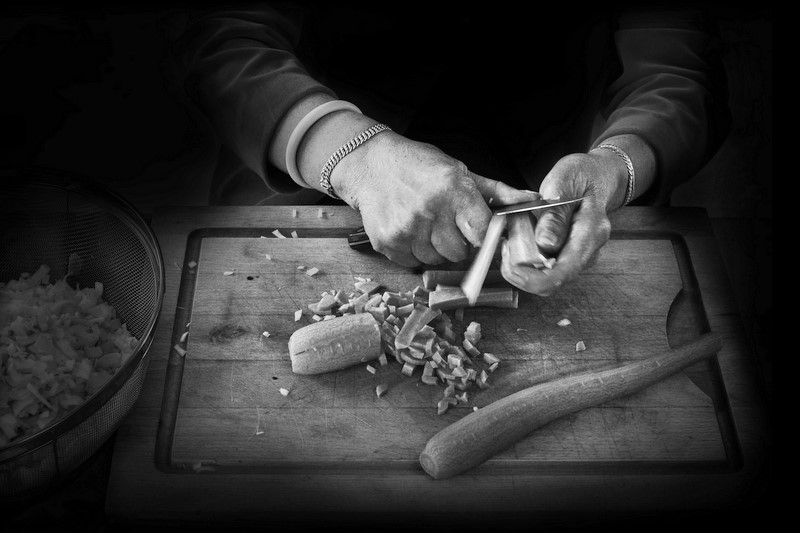 Final: Yolanda's hands
I presented this image at the Palo Alto Camera Club competition on 2.11.09 and the judge liked it and awarded it a "Print of the Month".

Update:
My friend Terry Cluley from Toronto saw the image and added this:
"The image of Yolanda's Hands is really something. The subject matter, the composition and the lighting gives it a feeling of a Flemish Painting. I really like your choice of going Black and White for this image, but then again you know I really love B/W.. I tend to process my images in B/W more and more these days. The only change I would have made, if it had been my image would have been to push the B/W a little more. I felt that you had lost some of the texture and detail in the wooden cutting board and also the detail in the skin. It seemed a little soft to me.. but that is just my observation. I hope you don't mind but I played with it a bit and applied some of my techniques that result in a more "Traditional Darkroom" result. I even try and add a little grain to make it feel like it was printed on the old Ilford Papers."
And he attached the following interpretation: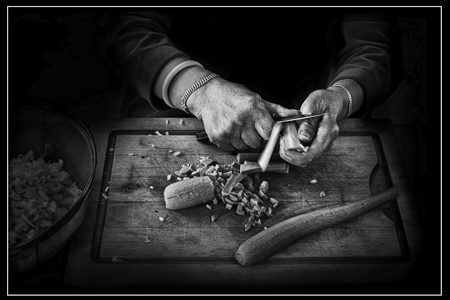 Edits by Terry Cluley