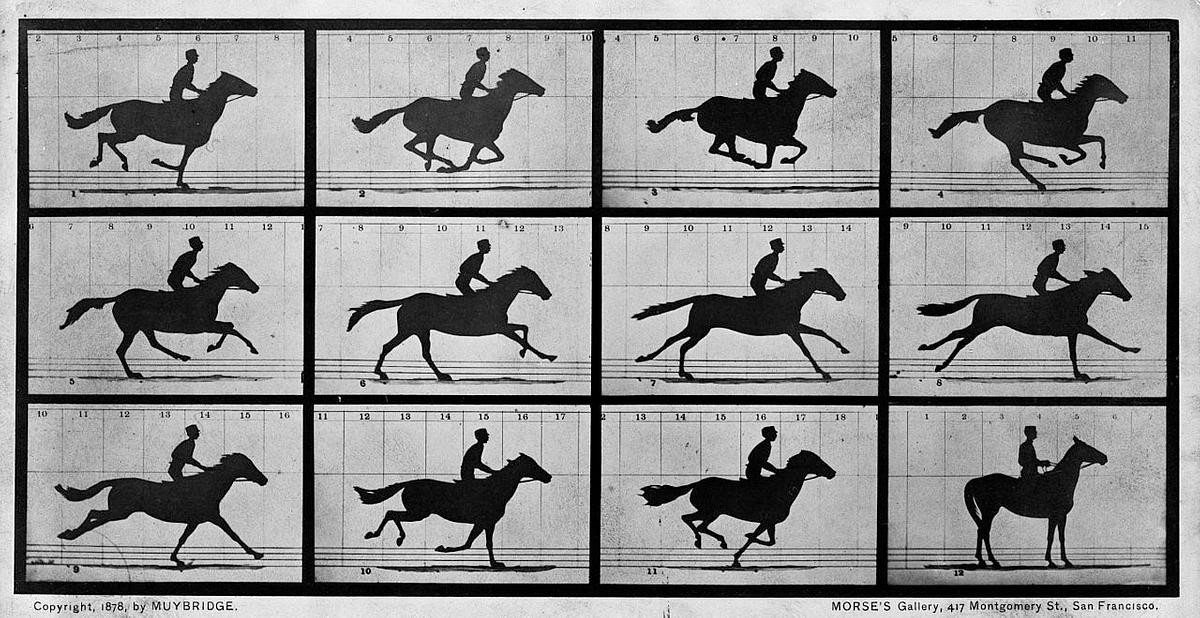 This post describes some technical and creative considerations when creating a photo slideshow. Although it is written for photographers, it can be used by anyone interested in making or understanding photo slideshows.
The post contains several sample of slideshows made by several artists. They are used to illustrate the concepts I describe. I believe that examples are the best way of experiencing some key creative concepts, especially when an author successfully convey an emotion that goes beyond the mere collection of visual artifacts.
This post was created based on a presentation on the subject I gave to the members of the Palo Alto Camera Club in September 2010.
Table
Some Background
This post is influenced by some of my professional experience in digital media. In 1989, I was involved with a large European project which consisted in creating an experimental modern interpretation of a Middle Age manuscript, Le Roman de Fauvel. I had the chance to work with a great artiste, Joelle de la Casiniere, who had a great influence on my career. The project consisted in inventing a new visual form using the time-based nature of video, and the composition tools that the computers in the late 80s were offering us. It was a study of the relation between text being read and narrative, a study of notes on a partition and interpreted music, the orchestration on a time line of a flock of visual elements.
That project lead to the design of an animation software called Object Dancer (which I happened to design the user interface). For those who remember, Object Dancer was a Mac software in the mid 90s and a direct competitor to what became Macromedia Flash (now part of Adobe) and Adobe After Effects. I even managed to get a patent on kinetic typography out of that project.
Later on in my career, I designed or was involved with more digital media authoring tools when I was managing the Product Design group at Adobe Systems, then at Roxio ("The Digital Media Company"), and most recently at Filmloop.
Some conceptual considerations
A photo slideshow is a method to present a collection of photographs. The main difference between a series of photographs and a photo slideshow is the time based nature of the photo shideshow. It introduces a large array of creative options usually not part of the art of photography.
Photos are by nature considered a "static" medium, one where the viewer "takes his/her time" to observe and depict the visual construction to eventually interpret a story. The photograph is present before the viewer looks at it, and still present after the viewer is done viewing. In that regard, a photograph belongs to the same class of static art-ifacts than painting, collage, sculpture, architecture, products, furniture, etc.
A photo slideshow, or, for that matter any type of slide shows, is time-based with a Start-time and an end-time. A photo slideshow assumes that the viewer will be present for a defined period of time. The slideshow belongs to the same class of art-ifacts as music, dance, theater, movie, storytelling, and to some extend sport performances such as games and competitions.
There are fundamental differences between authoring for a static medium and authoring for time-based medium:
| | | |
| --- | --- | --- |
| | Static medium | Time-based medium |
| Example | Photography, Sculpture, | Music, Dance, Theater, Movie |
| Nature of the medium | Monodimensional, Space, 2D, 3D | Multi-dimensional, Space and Time |
| Primary execution focus | Best use of the physical space | Best use of the time/duration |
| Storytelling constraints | Rely on the viewer interpretative skill | Use time to tell story |
| Audio | none | Sounds tracks, sound effects, loops, music, narration |
Start with the basic of photo slideshow
Starting with a simple slideshow design gives the insurance that your photos will keep the center-stage of the presentation. I have seen many times over-done slideshows which take over the power of the image and that of any message or story that the photographer intended.
Like when putting together a photo exhibit or a photo portfolio, the cohesive message of the group of images remains the core of the exercise. One needs to be clearly intentional about what it is that is being communicated to the audience.
More than with a photo portfolio or with a photo exhibit, every inconsistencies in the series of images and anything that doesn't intentionally serves your point will immediately distract the viewer and the attention will be drawn by the mechanics of the slideshow instead of being captured by the beauty of your visual narration.
Definition of a photo slideshow
Here are two definitions I created. I'm sure there must be plenty of other definitions all around, but those are designed with the photographer in mind:
Basic definition
A visual sequence of still images set in time and space with optional text and sound.
Advanced definition
A story conveyed with still images using a unique language. As such, it is evolving into an art form.
Why making a photo slideshow?
Basic reason
As a photographer, a photo slideshow might be a way to present a portfolio, a photo essay, or some other catalog of images that share some sort of common theme. A slideshow may very much be thought as an alternative way to put together a photo exhibit or a photo book.
Advanced reason
But photo slideshows are also a growing art form. Photo slideshows can be used as a medium on its own right to tell stories, create art, share social and political opinions and all of what other art form allow. In that regard, photo slideshows can stand up against books, movies, photographs, songs, or theater plays.
In order to successfully achieve such an ambitious goal, one will have to master the language of the slideshow, all the technical aspects, and focus on the creation of the story. The photos in that context become the matter of the slideshow, they serve its message.
Authoring a photo slideshow
Basic authoring
Use the following steps to create a basic photo slideshow (it will take you about a couple of hours including some tweaking):
Select 15 to 30 images
Sequence them to insure some sense of continuity using a slideshow software (see list below)
Stay away from all the software effects, bells and whistles and use only the basics
Preview, adjust, and save your slideshow
---
Title: Art of Photography - Cole Thompson
Author: moonlightnoir
Description: a simple portfolio of photographer Cole Thompson
What I like: fade to black transitions to separate the images, focus on the images, light music doesn't interfere with the images. Some basic synchronization with piano notes.
The variable pace breaks the monotonic rhythm. The intro slide and the extro credit are simple and nicely done.
What could be improved: better consistency of format of images, although the use of fade-to-black transitions reduces the impact.
---
Advanced authoring
Creating a phenomenological experience through a slideshow requires to be intentional about the expected message. Like with other medium, one needs to concentrate on the core message and purpose of the creation ahead of us.
To become art, the language of the slideshow, the steps, the elements, the technique, need to disappear or fusion to let the expression and the message take over.
This endeavor can take a lot of work and a lot of time. Powerful photo slideshows can take days, weeks or months to see the light.
Consistency rule
When it comes to animation and motion in general, the eye and brain are wired to detect changes and differences first and foremost. there was once an installation at the San Francisco Discovery Museum to experience this behavior. The installation was made of 2 images taken in a street within a few seconds of interval. The difference between the 2 images was limited to a different position of cars and people. When the 2 images were being displayed one after the other, the difference between the 2 images were obvious, instant. When the same 2 images were being displayed with a transition to black, it was almost impossible for the brain to register the differences.
In a photo slideshow, all differences between an image and the previous one are being highly amplified.
The control of the consistency is critical when authoring a photoslideshow.
Here are some aspects of consistency to consider:
Borders
Colors
Light source, brightness
Orientation
Scale
Quality
Composition
Position
Perspective
Aspect ratio
Visual style
Depth of field
…
Pace and Synchronization
Basic
Start with 20 to 100 images, give them 3 to 5 seconds each.
Add a sound track such as a music, use an option if available from your slideshow software to "fit to music". This feature will spread the duration of the images in time to fit the duration of the music track. If your music track is about 3 minutes long (180 seconds), use about 45 images (4 seconds each).
Try to stay within 2 and 10 minutes for your first photo slideshows.
Advanced
If you are ready to explore more advanced pacing of your photo slideshow, then start with the soundtrack and build your image story on top of it.
Also, you can change the duration of each image to give them a richer pace. But do it with intention so that it serves your narrative plot. Change also the duration of the images so that it fits the tempo and the events of your sound track. Some slideshow software have a feature called "beat matching" which will adjust the images to appear/disappear in rhythm with the audio track.
Layout and presentation
Basic layout
An easy win when creating your first photo slideshow is to fill-in the canvas of the slideshow real estate. For example, if your canvas is 1024 x 768 pixels, then always he images. This means that you will have to "crop-to-fit" most of your images. This technique will address one of the most distracting lack of consistency: aspect ratio and image dimensions.
Depending on the software that you use, you may want to try to use some basic slideshow "Templates". Templates can be more or less advanced piece of software that will take your images and assemble them in time and space for you based on some pre-defined rules set by the creators of the software. Usually, the more advanced the template, the less control you have to adjust, tweak, and modify it. Templates can be a good starting point to help you understand better what you want and what you don't want.
Pan and zoom is a visual effect that has been used in motion graphics for ages. Apple introduced it as a pre-canned effect in its iMovie 3 and named it the "Ken Burns effect" after Ken Burns for his notorious use of the technique in his documentaries. Here is an example of a documentary from Ken Burns.
the problem with the pan and zoom effects need to be controlled precisely in order to make sense. Otherwise, and despite of the advanced technology in face detection and other smart "stuff", your animation will tell the viewer that this is all "random".
Advanced layout
Once you are ready to explore more complex layout and use of the visual space, you can experiment with different dimensions of the images. But only with a clear intention.
You can also explore compositions using more than a single concurrent image, using either a template from the software or a software that supports multiple video tracks. Each image in the composition can have a different lifespan, a different way of coming in and getting out of the composition. they can have transparency effects, etc.
Another vector of exploration is the use of video snippets. Even if we are talking about a photo slideshow, why not incorporating very short video segments, which come with their own audio track and pace. They could be treated as images as well in the way they are sequenced and inserted within the rest of the flow.
---
Title: Airstream Gathering
Author: travel photographer Alison Turner more about Alison
Description: example of a photo slideshow using pan and zoom (Ken Burns effect). The slideshow is about people and a the event, and the effects are used to convey that message.
From the artist: Alison Turner traveled to Jackson Center, Ohio to be the official photographer for Alumapalooza. Airstream owners from around the world came together for their love of the trailers and to have some fun getting to know each other.
What I like: Strong story, we are carried into the event. Consistency across the images
What could be improved: The text effect in the extro is not consistent with the rest, and the slideshow ends brutally.
---
Soundtrack
The sound track can be one of the most powerful component of the photo slideshow. and yet, as photographers, we are not as savvy when it comes to audio, sound, music, tempo, voice over, dubbing, sound editing, multiplexing, multi tracking, filters, audio file formats, sampling, recording techniques, copyrights, and all of what makes an entire industry of artists and technicians.
And that's ok 
The sound track is the most important ingredient used to achieve the continuity across the visual. That's because of the intrinsic linear and time-based nature of that media.
I need to mention here that the world of music copyright is pretty tricky, when you buy a song, you don't own it, you only own a certain right to do something very limited: listing to it. and even that is restricted to certain device. That being said, you should know the rules and use your own judgment.
Basic soundtrack
Let's start with the basic. Select a music or a sound track that you feel will work for your project and place it in your slideshow software.
Then preview and adjust the duration and the pace (see chapter above on that topic).
I then suggest that you pay special attention to the end of the slideshow. Make sure that the audio and the visual end in harmony. Below is an example of how a poorly managed end can ruin a nicely done slideshow.
Advanced soundtrack
Once you are getting familiar with the basic, explore the use of sound effects overlay. Those are natural sounds such as sounds of the city, the everyday life, people screaming or laughing, or sounds of machines, and other creaking sounds. when carefully placed over your music track, they help re-enforce your story. Poorly used and they distract the viewer from the story.
---
Title: 12:54
Author: Melissa Balan
Description: example of the use of sound effects to help carry the dramatic plot of the story.
From the artist: my final project for Frame and Sequence, an introductory course in still photography with the Film & Television program at NYU's Tisch School of the Arts, taken in spring 2009 It was photographed with a Nikon FM10 and edited on Final Cut Pro
What I like: Strong story, simplicity of the execution, use of sound effect
What could be improved: The pace feels slow at times.
Use of dramatic music track.
---
Title: Magnum photography
Author: edmondedmond84
Description: a photojournalism portfolio from Magnum
What I like: use of music track (Saints from Swayzak) 
What can be improved: It's not clear if all images are from Magnum. Although the music creates a sense of continuity, some synchronization could help. Some inconsistency in image presentation and poor ending.
---
Title: Hardkor 44 - Trailer - 2010
Author: Tomasz Baginski
Description: example of the use of sound effects to help carry the dramatic plot of the story.
From the artist: The film will be the debut feature from Platige Image, and director Tomek Baginski. Co-produced by the Warsaw Uprising Museum it will be a sci-fi re-imagining of the events of the Warsaw Uprising in World War II and, if the concept art is anything to judge by, it will have healthy steampunk overtones.
What I like: Strong intro with title and music, use of the music to carry the the visual drama. Interesting inflexion point at the middle of the slideshow with the "pause"
What could be improved: Inconsistent use of images, some concept images have the movie logo on it, the visual inconsistencies in the first part are distracting away from the concept.
---
Another advanced use of the soundtrack is voice over. Voice over can provide a strong foundation for your story, as well as providing additional information to the viewer.
Some music resources
There is a growing number of sound tracks, sound effects, and even full music albums created by many artists around the world licensed under the Creative Common Audio Licenses. Many of those artists are offering their work as free to use, re-use, edit, and even re-sell. Many websites have now grown around that business, offering places for artists to list their work.
Here are some places you can find great free and legal audio and music files:
Transitions
The term transition is used here to refer to the technique used to replace one visual with another. Since in a photo slideshow the brain sees mostly the difference between one image and the previous one, the transitions are very important resources available to re-enforce or alleviate differences or similarities between images.
Basic transitions
I suggest to start with applying the same transitions across the entire slideshow to start with and to use an identical duration of transitions for all images.
Use and stick to the following transitions, avoid to use any of the "creative" or "rich" transition effects that slideshow software tend to offer. They are of no use in achieving a professional photo slideshow. There are three transition effects available:
Fade-to-black, mostly used to increased drama and to conveniently hide a lack of consistency between images. Can also be used between sequences like to mark a chapter. Fade-to-black transitions are made out of fading out the image to a black screen and fading in the next image.
Straight cut, also used to increase drama, it brings the next image without a progressive fade in of the next image. Images come in brutally one right after the previous.
Cross fade, to be used to give a sense of continuity. Lack of consistency between images will be increased and can distract away from the story. One image fades out while the next one fades in.
Advanced transitions
As you get more comfortable with using transitions, I still suggest to stick to the three basic fade-to-black, straight cut, and cross fade. You might want to explore what other transitions could do to help support your story, but keep it under control!
Also, it's time to try different durations of transitions across the photo slideshow. You may also try variations of the basic transition effects. For example, image A could fade out to black while image B could enter with a straight cut. Again, it depends what your story says at that very moment. Are you changing subject? Is this a new scene? Is this a surprising moment for the viewer?
Transitions can also mirror the sound track by creating visual parallelism to the pace set by the audio.
---
Title: Bourne Free 2010
Author: Mark Rigler
Description: example of the use of complex transitions.
From the artist: Bourne Free - A gay pride march in sleeply Bournemouth! Wot ever next! Bourne Free was originally set up in 2002 when a far right organisation was due to come to Bournemouth [England] and preach that homosexuality was wrong.
What I like: use of rich transition and music, good title intro and extro credit, use of photo title, good pace
What could be improved: Lack of story. It also contradicts my preaching of only using basic transition effects 
---
Intro & Extro slides
Intro and extro slides are simple additions to open/start and close/end a photo slideshow. Like with every time-based stories, you want to start with a clear beginning and end with a clear ending. Think of the beginning and the end of a song, a movie, a play, or even a sport event.
Basic Intro & Extro slides
Start you first slideshow with a slide that contains the title of your photo slideshow, the name of the author (that would be you), and optionally a date and maybe a brief context such as "A fairy tale" or "A national event organized by ABC".
End your slideshow with "The End" slide. This technique remains the most powerful and obvious to your viewer. Add another slide with a credit which may include some information about the music and a thank you note to people you may have helped you. And don't forget to end the music at the same time.
Advanced Intro & Extro slides
More advanced titling techniques include the use of image background, using a photo with a large uniform area over which the text can be overlaid. The design of those slides can take a lot of time, finding the right typography is an art in itself.
You may want to explore animation techniques such as vertical text scrolling to emulate a movie-style credit at the end of the slideshow.
---
Title: Street Photography London
Author: photographer Ronya Galka
Description: example of the use of an intro title.
From the artist: Black & White Candid Street Photography from London-based photographer Ronya Galka.
What I like: Strong intro with title on background image. Nice choice of music, some good synchronization, nice urban photography.
What could be improved: Catastrophic ending of music before the end. No ending.
---
Text Overlay and Intertitles
Text overlays can be used over images to add information, comments, point of view, or anything that can help construct your story.
Intertitles, also called "title cards" are slides with text inserted within the slideshow. They can be used to add some information, to mark a new chapter, or for any purpose that would help support your story.
Basic use of text
If you are making your first photo slideshow, keep text overlays for later.
Advanced use of text
There is an infinite application of text overlays and intertitles when it comes to photo slideshows. The field of still typography and the emerging field of kinetic typography provides a rich addition to the photographic material. Because you have a full control of the typographic material, it can be used both to re-enforce the visual consistency across the slideshow, but also to help communicate meaningful information.
Narrative tidbits (title, caption, supertitle)
Mark sequences and chapters
TV-Style sub-titling (storytelling/captioning)
Magazine style articles (stories, poems…)
Some kinetic typography…
---
Title: Psychatric Answering Machine
Author: photographer Roary McGrory
Description: example of pure kinetic typography.
From the artist: Psychatric Answering Machine. Funny Answering Machine. Typography. Animation.
What I like: powerful story and excellent use of kinetic typography.
What could be improved: not much!
---
A few successful photo slideshows
---
Title: A footwears tale
Author: surendhar1010
Description: a photo story
Notes from the author: The first ever story telling excercise in my life.
What I like: Strong story, use of intro slides, setting of the plot, title comes later. Consistency of presentation, sync to music.
What can be improved: Not much to improve, except maybe the blue background behind the text... just a personal opinion 
---
Title: Gulf Oil Photo Essay
Author: Gerald Herbert, AP Photographer - PBS News Hour
Description: a photo story

Notes from the author: Since the oil leak began in the Gulf more than a month ago, Associated Press photographer Gerald Herbert has as been documenting the people and places at the center of the disaster..
What I like: Strong story, strong images, powerfull narration and synch image/narration.
What can be improved: Not much!
---
Title: Her Morning Elegance / Oren Lavie
Author: Gerald Herbert, AP Photographer - Yuval & Merav Nathan
Description: a stop motion music video

Notes from the author: "Her Morning Elegance" from the album The Opposite Side of the Sea written and produced by Oren Lavie © 2009 A Quarter Past Wonderful
Her Morning Elegance video
Directed by: Oren Lavie, Yuval & Merav Nathan
Featuring: Shir Shomron
Photography: Eyal Landesman
What I like: Like the title of the song: elegance, precision, story.
What can be improved: Not much!
---
Authoring resources
Basic photo slideshow authoring
Here is a comparative review of simple packages made by Lifewire.

Advanced photo slideshow authoring
Adobe After Effects and Adobe Premiere
Apple Motion and Apple Final Cut
Sharing resources
Once you have created your photo slideshow, you may want to share it…
Online sharing solutions

Youtube (new 15 min limit, HD option, careful with copyrighted audio)
Note: rendering a slideshow can take up to 10x the duration of the slideshow itself. For example, rendering a 10 minute slideshow can take more than an hour depending on the quality, dimension, use of effects, etc.