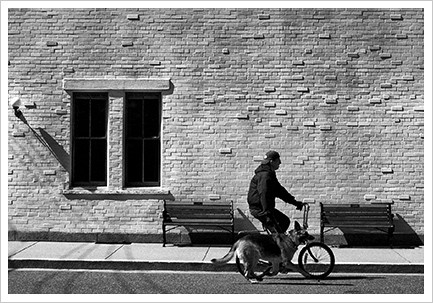 From behind the Shutter
On Sunday March 16th, 2008, the Palo Alto Camera Club organized a photo outing photography outing to Kelley Park in San
Jose. The park is open from 11am-4pm. History Park is open from 12pm-5pm.
I took the following picture around noon time at the side wall of the Pacific Hotel: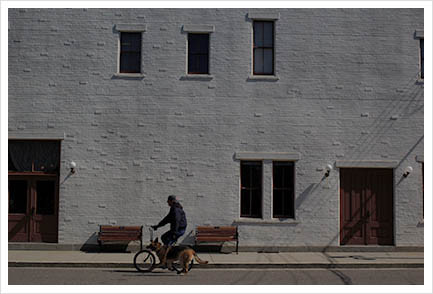 Original: Nikon D50 • Nikkor 35.0mm

35mm • 1/2000s • f/9.0
3.16.2008 11:01AM
The vertical light at that time was hard, creating dark and crisp shadows. The bricks of the wall created an interesting shadow pattern. A man on a bicycle was crossing, running his dog. I took my breath, made sure I had a fast shutter speed and waited he was positioned between the two benches. The Nikkor 35.0mm lens is very fast to adjust its focus, especially when it's already pre-focused, and the D50 has a very fast in adjusting its focus, so with some luck I was able to catch the composition.
When I reviewed the image on the computer, I found it was too dark, so I adjusted its brightness. I also turned it into a monochrome image as the shadows and the light contrasts were the most interesting elements. I made those two adjustments in Picasa, not in Photoshop.
I then made the following edits in Photoshop:
increased contrast using the curve layer
darkened the upper part of the image
flipped the image horizontally
brightened the details of the man and the dog using a masked curve edit
removed an un-wanted shadow on the edge of the curb using the clone tool
When I had to find a title for that image, I got inspired by a painting by Giorgio deChirico called "Mystery and Melancholy of a Street" which he painted during the first WW. The elements that made me think about that painting are:
the sense of loneliness, and timelessness
the wheel of the girl and the bike of the man
the light and the hard shadows
the balance between the architectural elements and the characters
And since I felt good about remembering something from my art class, I decided to borrow de Chirico's title…
Here is the painting:

Mystery and Melancholy of a Street – Giorgio de Chirico – 1914

I submitted the image to the PACC monochrome competition and the judge awarded it the first place in its category. There was some discussion regarding the composition and whether the window on the left was balancing the position of the bicycle on the right or not. I agree that it would have been a better composition if the bike and the window would switch place.
Update
Laurie just pointed me to a picture from Henri Cartier Bresson taken in 1932 called "Hyeres" after the name of a small town on the French Riviera, close to where I grew up. This image is a masterpiece.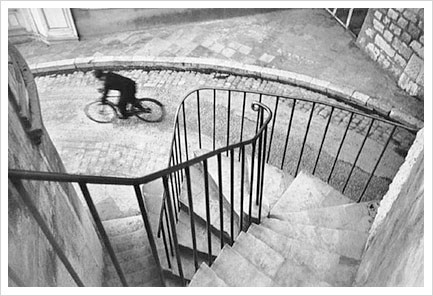 Henri Cartier-Bresson – Hyeres – 1932