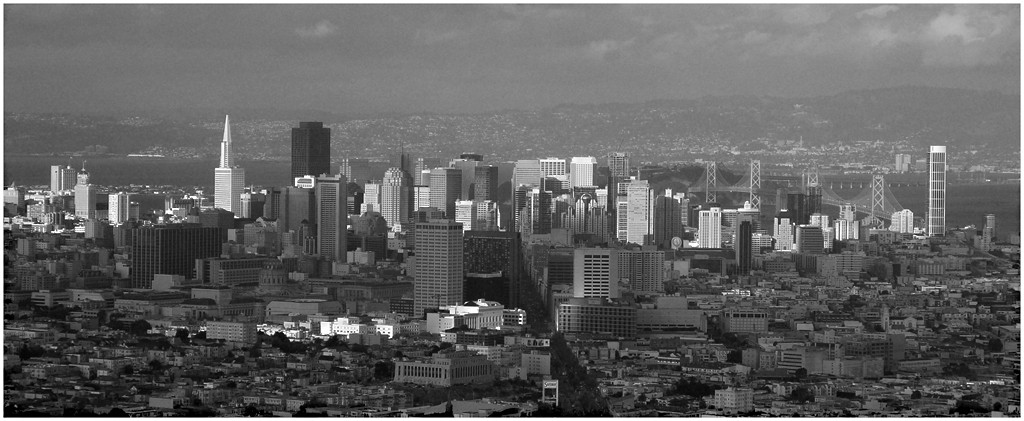 From behind the shutter
On March 14th, 2008, I had lunch with my friend Charles Ying, on Castro Street in San Francisco to discuss and share our experience of staring and funding high-tech companies. The weather was fast changing during that day, with large clouds running over the city, alternating showers, and sun.
As I started to drive back to the Valley, I got myself stuck behind a "City Tour" bus. We were not too far from Twin Peaks, in the middle of almost nowhere and I thought that following the bus would bring me to a place where I will have some scenic view. Sure enough, after 15 minutes, I ended up at the top of Twin Peaks, it was my first time there, thanks for the Tour Bus! The exact location is the "Christmas Tree Point rd" off Twin Peaks Blvd.

Twin Peaks is a great place with an almost 360 view of San Francisco. If you walk a bit down the road from the parking lot, you can manage to have a view of Market Street like this one below: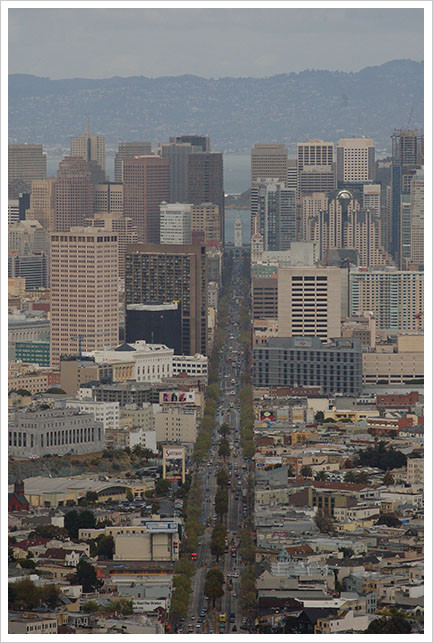 I waited about 3 hours to get the following shot, for the light, rain, and clouds to create a nice composition. I wanted to create a dramatic sense of light and contrast, and still remaining within a good dynamic range.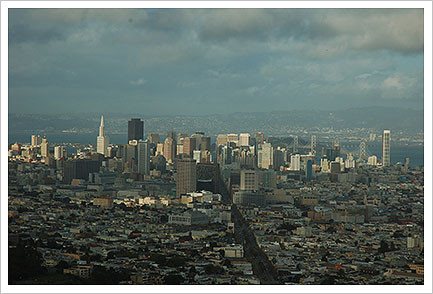 Original: Nikon D50 • Nikkor 80-200mm
70mm • 1/160s • f/9.0
3.14.2008 4:50PM
I then turned the image into a monochrome, darkened a bit the edges, and cropped it in a panoramic format.
The image got an honorable mention at the Palo Alto Camera Club digital competition on April 7th in the monochrome category.